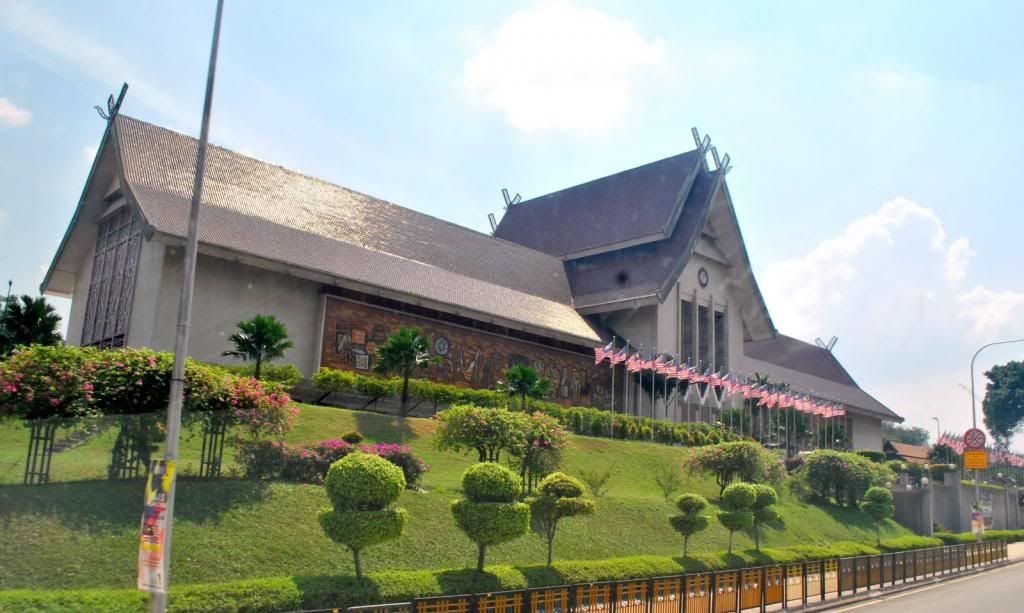 The museum is open daily from 9am to 6pm, except Fridays, when it is closed from noon to 2.45pm.
National Museum of Malaysia is sitting on an incline on Jalan Damansara and facing Jalan Travers. The museum was initially built on the site of the old Selangor museum, but was destroyed during World War 2. The new museum opens in 1963. It spots a huge Minangkabau roof and front walls covered with Italian mosaic flanking the main entrance. The museum is well worth whiling away a few hours, especially for its social and cultural sections. These include an extensive section on the Nyonyas and Babas, the unique culture born of a fusion between Chinese and Malay traditions.
There is also a complete reconstruction of Malay "kampung" (village) and, on the other end of the social scale, a courtly scene complete with antique attire and gold and silk adornments. Also represented are Malays pastimes and sports, and there is a detailed history of shadow puppets, with displays from Turkey, India, Indonesia, Thailand and Malaysia. The Orang Asli (aboriginal of Malaysia) culture and societies are well documented, and displays inform on wildlife and natural resources, with a diagrammatic representation of an open-cast mine. Other interesting exhibits include the skull of an elephant which is reputed to have derailed a train! There is also an amok catcher, a frightening device that was once used to catch render harmless a person who has "run amok".