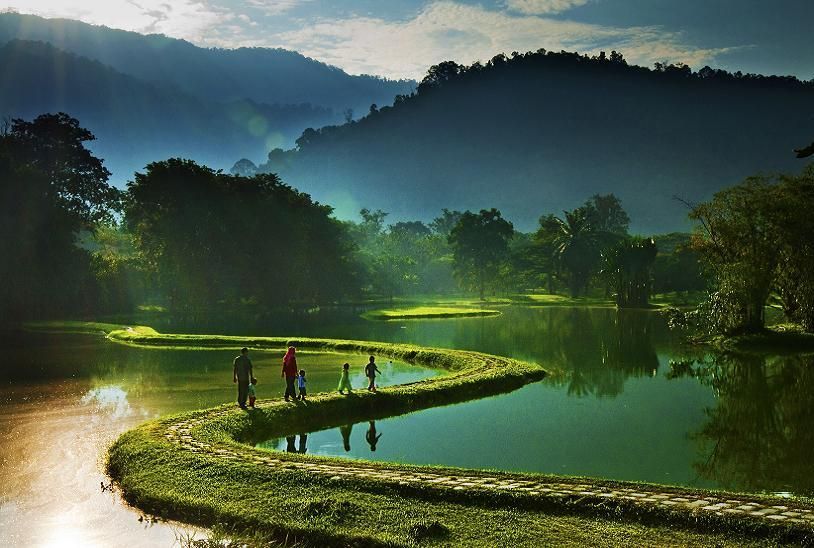 Downtown Kuala Lumpur is crowded with buildings, both old and new, and may begin to wonder if there are any green spaces in the city apart from the Merdeka Square. A recent upsurge of interest in the greening of Kuala Lumpur now allows it to boast 30 public greens, from roundabouts planted with bougainvillea to spacious parks.
The best-known and most popular of these parks are the Lake Gardens, or Taman Tasik Perdana (Malay). 92 hectares of undulating green with magnificent trees flowering plants prove that the jungle can be tamed. The park owes its existence to A.R Venning, a British official who managed to persuade Swettenham in 1888 that Kuala Lumpur needed a public park. The largest lake on Kuala Lumpur, Tasik Perdana, once known as Sydney Lake, has boats for hire by the hour.
The gardens are popular with locals and visitors alike and are especially crowded on the weekend when in the early morning or evening, joggers puff their way around the humid paths, lovers seek more secluded spots, family have their picnic beside the lake and old Chinese man go through their tai chi routine. The park is open 10am till 6pm for Monday till Saturday and 8am till 6pm on Sundays and Public Holidays. Besides, it's just a walking distance to the Orchid Garden, Bird Park and Deer Park. The National Monument of Kuala Lumpur is just apposite of the lake.