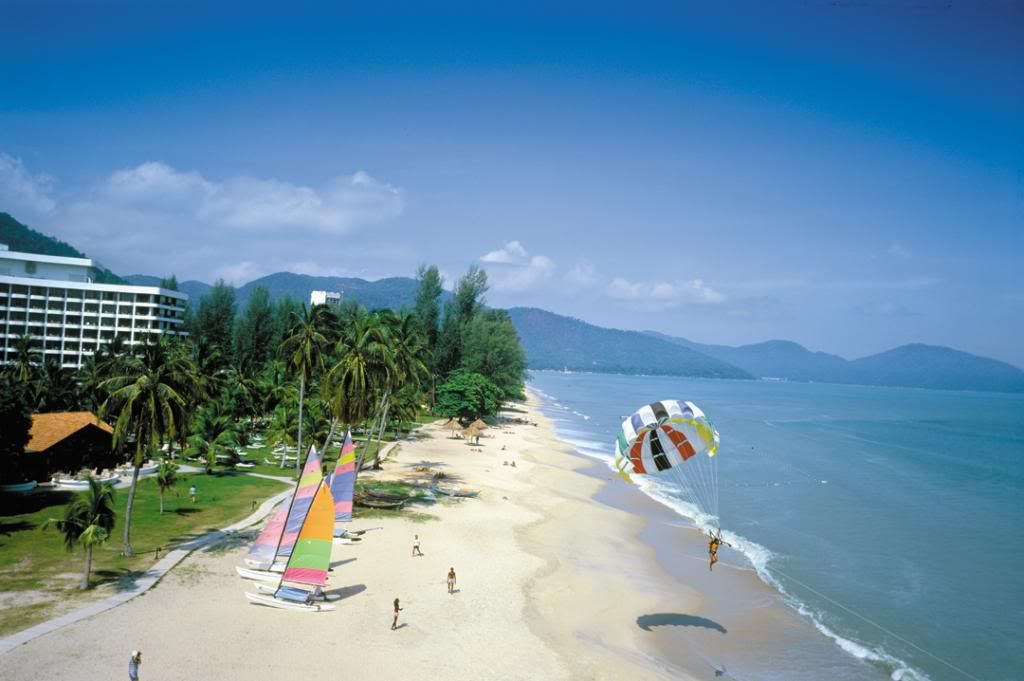 The road to Penang's north coast follows the curve of the land, twisting up and around a hill or skirting the fringe of the sea. Rocky headlands jutting out into the sea divide the shoreline into small bays and coves, each with a different character and charm. Although the waters are not as clear as on the East Coast, the beaches are still popular for swimming and sunbathing.
Most activities are centered around Batu Ferringhi, one of the most popular beaches in Southeast Asia. Batu Ferringhi is locates about 20 kilometers (12.5 miles) from Penang city. The large luxury hotels and resort of Shangri – La's Rasa Sayang Resort, Golden Sand Resort, Parkroyal Penang Resort, Lone Pine Hotel, Hydro Hotel, Holiday Inn Resort, The Bayview Beach Resort, Hard Rock Hotel and more can be found. Their facilities include water-skiing, sailing, windsurfing, water scooters and horse riding. Smaller and older, but comfortable and reasonable price, are Palm Beach Resort and Sri Sayang Resort. Small inns and motels as well as many villagers in this area also offer accommodation.
As the sun set, Batu Ferringhi comes alive with a carnival-like atmosphere with an open-air bazaar selling anything from ornate curios to enticing souvenir items. Anyway, water sports and beach activities are the main entertainment during daytime. Besides, tourists are advised to beware of jellyfish, in case you get stung, apply vinegar (get from any restaurant nearby) and get to the nearest clinic. When the moon rises, night market and restaurant are the best place to go.