Thai cuisine needs no introduction, visit any town in the western world and you are likely to find a Thai restaurant within a short distance. Thai food in Thailand, however, is a whole new experience; as skilled as Thai chefs are in taking foreign food and putting a spin on it, traditional dishes are all about detail, balance and variety. The juxtaposition of hot, salty, sweet and sour flavors is what makes the food so special. As with many national dishes, Thai food reflects its country's environment, culture and values. From street food to a la carte, the food of this Asian nation is full of flavor and ingenuity.
Back to basics
Traditional Thai cuisine is basic in terms of how quick and light preparation is, yet complex in terms of balancing the flavors. In most cases, the food has at least three or four elements of taste that come together to form a perfect blend to awaken the senses. Smell is just as important as taste and Thai dishes generally have a mild yet identifiable aroma which carries throughout the eating process and stays for some time after.
Thailand's calling card to the rest of the world is Pad Thai. Though an infinite number of variations exist, the national dish comprises beansprouts, noodles, tofu and onion; the finishing touch is the sprinkling of peanuts that are ground almost to dust. Any other ingredients you decide to add, such as fish sauce, peanut sauce or chili oil, you can. The dish has raw ingredients not too dissimilar to those used in western dishes, but it is how they are cooked, the combination of flavors and the added extras, which transform the dish from toned-down to traditional Thai.
Tom Yam Goong is the national aroma of Thailand due to the fragrant herbs used; lemongrass, lime leaves and shallots are the staple smells of the dish and chilies and fish sauce make the dish sing. Jumbo shrimp and mushrooms are the substance of the meal and the main tastes are hot and sour. Many Thai nationals have Tom Yam Goong as a starter, but it can also be served as a main dish if rice is added to bulk it up.
A quick and easy staple of the Thai eating experience is Kuay Tiew. No other dish will test you chopstick skills as much as noodle soup; slurping on the liquid broth is inevitable. There are countless ways in which noodle soup can be served, which makes it one of the most versatile of the more popular Thai dishes. The noodles are usually thin and broad and the substance of the dish is meat of any kind. The most popular meats are duck, chicken, beef, pork and seafood, not too different from the traditional meat staple foods of the western world.

Market meetings
No culinary-inspired trip to Thailand would be complete without a visit to one of their world renowned food markets. Talaats, as they are known, are a fundamental part of Thai life and families and friends gather here to purchase food, dine at their favorite vendor or just kick back and munch on a deep fried snack.
You can't get more of an authentic Thai food experience than visiting the country's largest and most famous market, Damnoen Saduak. Though the prices are higher than elsewhere and the place is flooded with tourists and locals alike by the time it opens its gates, the floating market gives a fantastic taste of the old river life and a chance to pick up some great souvenirs. As well as being faced with a magnificent array of fabulous new foods, you are encouraged to hire a sampan to explore the surrounding canals.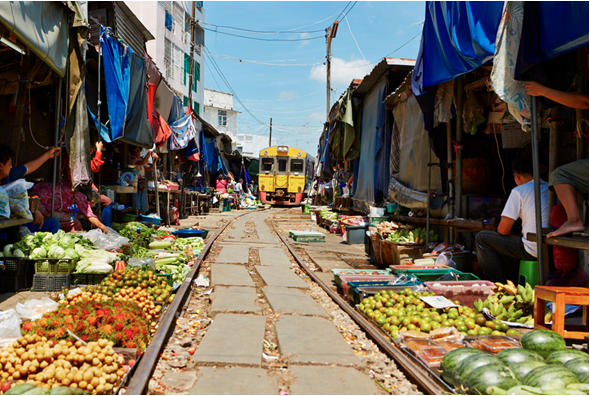 The Railway Track Market in Samut Songkhram is definitely worth a visit. A 40 minute drive south-west of Bangkok, this crazy and chaotic market straddles a working rail track and stalls are rolled out of harm's way eight times a day. You can find every type of Thai food here and are able to hire a guide to ensure you make the most of the experience.
On the streets
Thailand is well known for its street food and many who visit return home with stories to tell about what exotic item they have purchased and eaten from a road vendor. Most new experiences will invariably involve an insect of some kind; many street vendors sell deep fried locusts, bamboo worms and even snake heads. Finger food in Thailand isn't all about insect eating however, there are many foods sold on the street that are more acceptable to the western pallet.
Som Tam (papaya salad) is one of the most popular street food dishes. Fresh, flavorsome and most importantly, fast; Som Tam is a sweet, sour, salty and spicy concoction of shredded papaya, tomatoes, shrimp, garlic, peanuts and chili peppers. The flavor combination may well be like nothing you have tasted before, but it is refreshing and will leave you wanting more. The majority of Thais' like their Som Tam extremely spicy, so ask for a milder version if you are new to this delicacy.
Moo Ping is a grilled pork skewer that is widely available from street food vendors. Grilled meats in general are popular and you will often find chicken is available as well as the more adventurous varieties, such as buffalo. Each vendor will have their own type of marinade, but it is usually sweet and garlic tasting. Again, the raw ingredients themselves are common in the western world; it is how they are cooked, served and seasoned that makes them truly Thai.
Cooking schools are popular in Thailand with both locals and tourists who are eager to create their own unique dishes. Pattaya is a large city and offers many culinary classes, some of which are overseen by the top chefs in the country. Be sure to make time for a stopover in Pattaya for a food festival or a cooking class and then travel on to one of the smaller towns for an authentic dining experience. Sitting on the floor and eating with your right hand is the traditional Thai way.
Thai food is well worthy of its reputation as one of the world's greatest cuisines. Intricacy, texture, color and taste are vital components of any Thai dish and, much more than this, many of the ingredients are used for medicinal purposes in addition to the flavor they bring. Whatever your taste, be sure not to miss sampling at least one or two traditional dishes on your next visit to Thailand.