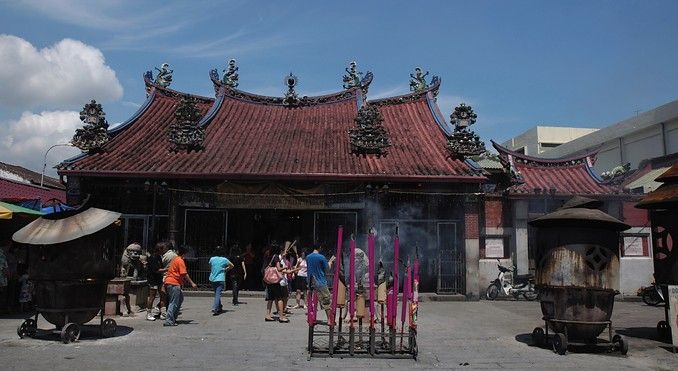 Of all the Chinese temples in Penang, the oldest Kuan Yin Temple is Lebuh Pitt. As is fitting, it is also the most humble and most crowded. This temple belongs to the people in the street – the noodle hawkers, the trishaw riders, and the housewives doing the daily shop in the market, the old shopkeepers calculating cupboards, repairing bicycles or selling sundries. Kuan Yin, a Buddhist god that shows the most mercy.
She is ever-present on Chinese altars, whether the worshippers be Taoist, Buddhist or Confucian. Throughout the day, people visit her temple to burden her with problems they cannot solve or to thank her for the blessing which ended their worries. The clicking of "divining sticks" ricochets throughout the halls as devotees ask her advice for the coming week, men and women of Georgetown know that Kuan Yin will reply. She is perhaps the most beloved divinity of all the Chinese altars in Penang. The worshipping of Kuan Yin is a meeting ground between traditional Chinese belief and Buddhism.
Kuan Yin Temple has a well-worn look. The halls are heavily laden with scented smoke. The floors are littered with joss sticks wrappers and discarded shopping bags. The altars look like a banquet table with roasted chickens, sweet cakes, oranges, pineapples and cookies neatly placed as humble offerings to the goddess. If you are not a Buddhist, you may just want to walk by and take a photo of this oldest temple in Penang.